Assalam 'Alayk everybody. It's been so long ago since the last post ay?
So today, we're gonna let you know the importance of scaling and the implications of unscaled dentition.
Some of us might have experienced scaling procedure done in dental clinics. And some of us probably never. *sigh*
What is Scaling?
Dental scaling is the process of removing plaque (tahi gigi) and calculus (tartar) from teeth by using manual hand-held instruments or ultrasonic dental scaler (cavitron).
Why Scaling?
Oral cavity is an environment which is constantly bathed in saliva. While the saliva can provide protection against tooth decay, when comes into contact with tooth, however, is able to build plaque (tahi gigi) through incorporation of bacterial and nutrient molecules.
Advanced with time, plaque will be hardened through seepage of calcium into the plaque layer. This hardened plaque is known as CALCULUS.
It is very difficult to remove calculus once it is established on teeth surfaces. Hence, a method of removing calculus must be developed - that is scaling.
Note the chalky-white deposits at the back of the incisors. Those are not food debris. They're

CALCULUSSSS

!!!! AAARRRRGGHH!!! *running back and forth*
There are 2 methods for scaling: manual scaling and ultrasonic scaling.
Manual Hand-held Scaler
Don't worry. They don't cause pain as they look.
These type of scalers are used to remove visible calculus buildup on tooth surface.
Ultrasonic Scaler (Cavitron)
This type of scaler is usually used to remove calculus in the gingival pockets. It is a vibratory device.
I DON'T WANT TO SCALE. SO WHAT?
But why don;t you want to scale?
Because I Think My Dentition is All Clean. Any Problem With That?
So that means you are fully aware that you are not going to get these:
GINGIVITIS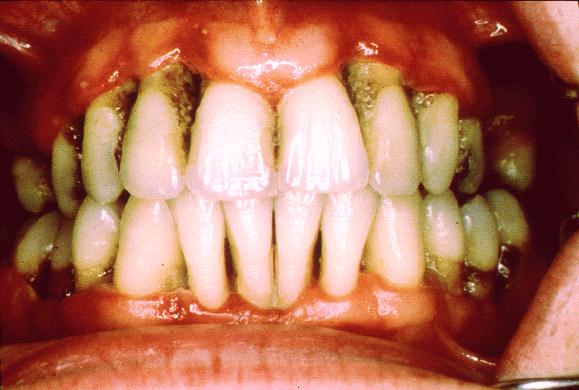 PERIODONTITIS
*some images are gruesome. Parental guidance is advised*
I should have put the caution earlier *sigh*
ACTUALLY I'M AFRAID TO GO TO THE DENTIST. WAAAAAA!!!!!!
LOL.
Signing Out,
Filani Fauzi